Great Lakes and Mississippi River Interbasin Study (GLIMRIS)
To comment on the Army Corps report on blocking the passage of Asian carp and other invasive species between the Great Lakes and the Mississippi:
Use the form on the GLIMRIS website
or
Send written comments to
U. S. Army Corps of Engineers, Chicago District,
GLMRIS ANS Control Comments, 231 S. LaSalle St., Suite 1500
Chicago, IL 60604.
Comments must be postmarked by March 31, 2014.
(formal notice of comment period extension)
Big River Travel Map
Dozens of scenic Mississippi overlooks and places to go.
Read Stories
about the Upper Mississippi River from past issues of Big River Magazine.
See complete issues from 2006 and 2007 online (PDFs). Select issues here
Volunteer groups on the river - a nine-part series about non-profit groups making a difference on the Upper Mississippi
Check the weather forecast and river levels for Upper Mississippi River cities.
Links to Upper Mississippi Resources
Take a look back at our April Foolishness river stories.
Deck on Deck:
Towboating in the Twin Cities
by Capt. Bob Deck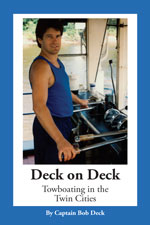 What's it like to work on a towboat? Deck on Deck is a first-hand account of life on river towboats in the 1970s and 80s. These stories will entertain you as Bob Deck recalls his days as a deckhand on the Mississippi River.

Troubled Waters Ñ 30 Years in the River Business by Jack Lambert For sale in the Big River Bookstore.
Listen to Jack's July 1st talk with Tommy Mischke on The Nite Show - Mischke Til Midnite,WCCO NewsRadio online.