Navarro Canoe
By Ryan Johnson
2017 Big River Magazine
We're known for our ribs, explained Sue Peterson, co-owner of Navarro Canoe Company.

These cherrywood ribs are served with Kevlar and a side of epoxy, and they have helped Navarro Canoe Company stand out from the pack.

Equal parts form, function and art, Navarro canoes are a homage to the cedar-and-canvas canoes that dominated the water for a century. After World War II, materials such as fiberglass, aluminum and plastic rapidly displaced the natural beauty and elegance of cedar and canvas. Despite being considered by many to be too delicate for modern paddlers, cedar- and-canvas canoes are still produced in small numbers by dedicated craftsman around the world. As a testament to their durability, many cedar-and-canvas boats have served generations of paddlers. That longevity, however, comes with considerable care and maintenance, compared to a modern fiberglass, aluminum, plastic or Kevlar canoe. Navarro canoes bridge that gap between tradition, beauty, durability and low maintenance.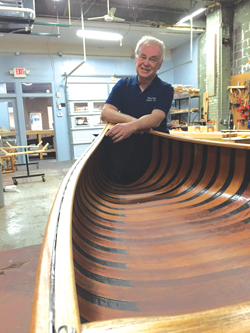 On the Move
Navarro Canoe Company was founded in the early 1970s by Vernon Pew. A self-proclaimed black sheep of the family, Vern removed himself from Merrimack Canoe Company, established by his grandfather in 1954. In what seemed to be a mostly amicable move, Vern left Tennessee with two of his grandfather's canoe molds and headed to Mendocino County, California. His canoes, named after the nearby Navarro River, were nearly identical to the Merrimacks.

The design and build method of the Merrimack/Navarro canoe was born of innovation and the passion to continue a tradition of beauty. Vernon's grandfather, Lemuel Beach, Sr., a hunting and fishing guide in Maine, didn't like the newfangled all-fiberglass canoes entering the market. Beach's passion for aesthetics led him to develop a hybrid of beauty and performance, or as he put it, "a fiberglass canoe that looked like a canoe."

He integrated wooden ribs and decking into a thin fiberglass hull, creating a stiff, lightweight canoe that retained the classic look. Fiberglass (or now Kevlar) used in place of the traditional canvas made maintaining the hull easier. A Navarro can last for generations with an annual coat of marine wax on the exterior of the hull and some oil wiped on the wood.

Pew moved Navarro to Talent, Ore., and expanded it. By 1997 he was producing 730 canoes a year, thanks in part to a handful of new hull designs from renowned canoe designer Bob Foote. In 2004, as Pew approached retirement, he sold the business to John Wiesendanger, who moved the company back to California. It soon changed hands again and landed in Minnesota.

Navarro struggled at its new home, and a few years later Bruce and Sue Peterson saw a post on Craigslist offering the company for sale. The Petersons were planning to move to the Quad Cities area, but Bruce was unable to find a job in his profession, hospital administration. They decided to give canoe building a try. In 2011 they bought the company and moved it to its current home, a few blocks from the Mississippi River in downtown Rock Island, Ill.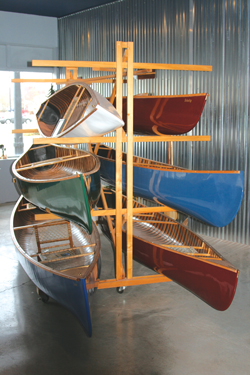 Reborn, Again
Even after Bruce began building boats in Rock Island, rumors were still circulating that the company was out of business.
"In many ways it was like a start-up company," Bruce recalled.
Thanks to efforts from Sue, a new website and a strong social media presence helped bring Navarro back to life. Sue continues to focus much of her attention on marketing and sales, while production is largely in the hands of Bruce and one part-time employee.

Decades of hospital administration did not prepare Bruce for life in a boat shop, though he had some construction experience building a few houses with his father. Aside from childhood adventures on lakes near his hometown of East Troy, Wis., Bruce wasn't even much of a paddler. Like many of his customers, Bruce was simply sold on the looks of Navarro canoes. Luckily the purchase of the company came with a six-week crash course in canoe construction from the former owners. About 100 hours of labor goes into each canoe.

Perhaps more important than experience was a passion to create beautiful art. As Bruce showed me around his shop, his eyes lit up as he explained how pieces of raw wood would soon evolve into a finished canoe.

"The wood looks better with every step," he said.
And thanks to the natural patina that wood develops, "You buy a great looking canoe, and 15 years later you have an even better looking canoe."
Bruce compares a Navarro canoe to a luxury car with a wood trimmed interior.
Paddlers and non-paddlers alike are struck by the beauty of the cherry ribs and decking contrasted against the black fiberglass or Kevlar interior. A few customers have purchased canoes to simply display as art, which makes Bruce a bit uncomfortable.

Navarro canoes combine that art with performance. You would be hard pressed to find negative reviews of the performance of a Navarro. Perhaps the only situation where you will see a Navarro fall behind is on the portage trail. By using the wooden ribs and decking, the Navarros simply cannot match the weight of their ultralight cousins, who trade the beauty of the wooden ribs for high-tech structural foam and vacuum construction methods. The top selling Navarro, their Kevlar 17-foot Loon, weighs 59 pounds. A comparable canoe made of Kevlar reinforced with foam ribs weighs 44 pounds. Depending on the options and trim, the price difference is small and both canoes come with a long history of excellent performance reviews. The Navarro Loon boasts 42 cherrywood ribs, making for a very stiff hull from bow to stern and giving it superior resistance to impacts.

Navarro produces six canoe models. Models can be customized in different lengths, materials and colors.
As Bruce likes to say, "We don't sell boats, we sell an experience."
Navarro Canoe Company
2219 3rd Ave., Rock Island, IL

Ryan Johnson is a kayak guide and a surveyor. His last story for Big River was "Born to Paddle — Growing Wenonah Canoe," January-February 2016.
©2017 Big River Magazine