Indulge in Rococo and Romance
at Savanna's Castle
By Sara Millhouse
May-June 2019
"Reality is for those who lack imagination."
—Adrianne St. George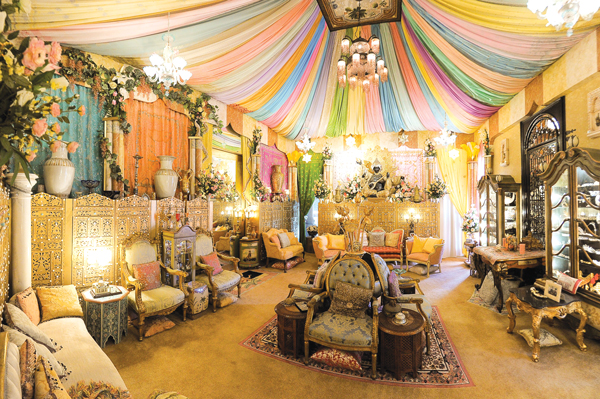 The chamber of Kali-Ma features a sari-tented ceiling. (Dan Rest)
As one steps from the grand foyer into the Russian rococo library then into the Fragonard music room, it's easy to get lost in this world.
By Sara Millhouse

Up a narrow, hillside driveway in the hard-luck motorcycle town of Savanna, Ill., is an entirely different world, the world of Havencrest Castle. It's a world of Persian fantasy and Arthurian legend, of pink lights and baroque sculpture, where Adrianne and Alan St. George have brought to life elaborate fantasies of the American aristocracy in a intricately-detailed and growing monument to a love that continues beyond death.

In the words of Adrianne St. George, "Reality is for those who lack imagination."

At Havencrest Castle ­reality seems far away. Imagination is paramount. As one steps from the grand foyer into the Russian rococo library then into the Fragonard music room, it's easy to get lost in this world.

"Adrianne was good at layers," Alan said. "There was depth, but nothing stuck out like a sore thumb … She would layer light like she would layer everything."

Those pink lights were hand-blown in Czechoslovakia. Every detail is carefully curated, and mirrors create even more depth.

Alan opened his mascot-costume company, Facemakers, Inc., in the 1970s, and a few years later, the St. Georges moved to Savanna, Ill. He and Adrianne slept on the floor on their first night in the Greenleaf family home, formerly known as Hillcrest. The next day, the work of their lifetimes began.

Adrianne was the visionary, and Alan the craftsman and creator. "She could have decorated 10 castles," Alan laughed. "She was way ahead of me."

The sculptures and paintings found throughout the home are his. He is skilled in trompe l'oeil, in decorative artifice as well as art.

The rooms draw on Victorian and Edwardian tastes and the earlier times that influenced them. Like the Victorians, the St. Georges have been "mad collectors." Tucked in corners of the house are oddities ranging from the world's largest corn flake to Houdini's dove pan to a 1796 insurance policy against pirates.

In the Chinese tea room — the furnishings for which filled an entire shipping container from China — Adrianne thought something was missing. The walls needed little points of light. High-school helpers spent weeks gluing tiny pearls all over the walls.

Alan tells tales of the elaborate parties they would throw when a room was completed, filled with gowns and asparagus tongs, opera singers and henna artists. "She just ruled this room," Alan said as he stepped into the Flemish Renaissance dining room. "She was a great raconteur. She'd keep talking, and she'd get each person talking about themselves."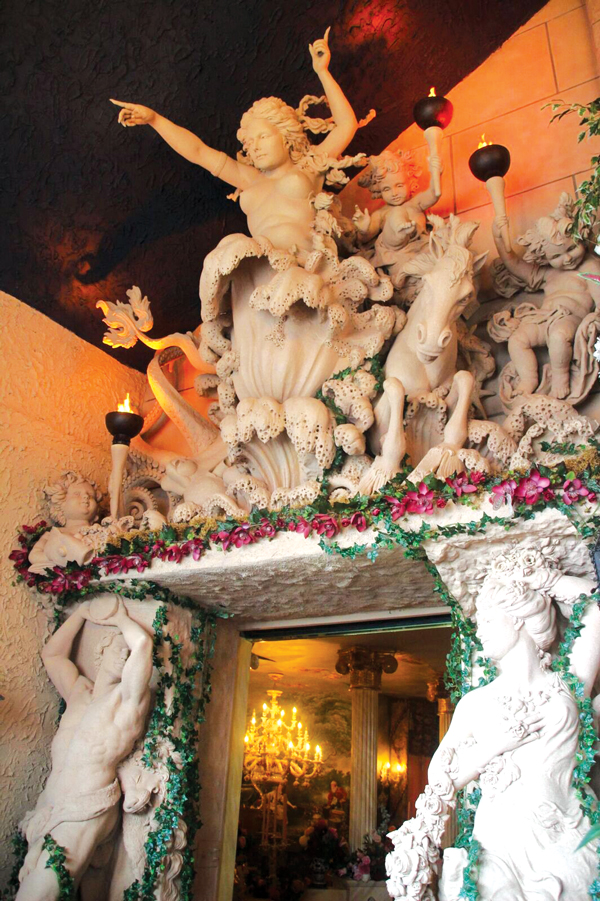 A statue points to the Mississippi River below. Alll the sculptures in the house were done by Alan St. George. (Sara Millhouse)
Personal symbols are often encountered: their motto, "Semper Nos" ("Always Us"), their likenesses hidden in ceiling paintings, even their own china stamped with their crest and profiles. Alan isn't even sure how many pieces of St. George china they have.

Alan's largest sculpture, in the Chicago Conservatory room of the house, points toward the Mississippi. All the forces of nature are represented, and "she's creating it, making it appear," he explained.

Adrianne passed away in 2006. After years of grieving, traveling and working on his sculptures, such as his Titanic clock carvings, Alan St. George is opening to the public the home he and his wife built together.

Ticketed tours are scheduled for Saturdays and Sundays in May, 10 a.m. to 5 p.m., with final tours leaving at 4. There isn't much parking near the castle, 140 N. Fifth St., but visitors can catch a shuttle up the hill.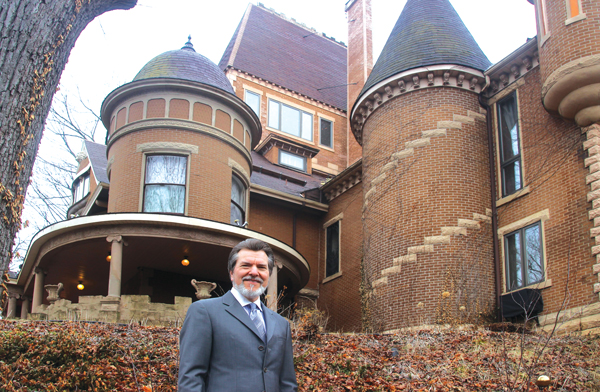 St. George stands outside his home in Savanna, Ill

. (Sara Millhouse)
General admission is $15, with a $5 add-on for the second floor and $10 entry for kids and veterans. Admissions can be purchased at www.havencrestcastle.com. Kids get free crowns.

"The house went quiet for awhile," Alan said. "With the tours, it's coming alive again, with music, with light, with laughter, with the energy of people. I know she would love that, and of course her energy is boundless."

And he's continuing to create their masterpiece. The walls of the home's grand ballroom are largely sculpted and decorated, but Alan is still undertaking his labor of love. As inscribed in the medieval hall, "For love, not pain, nor censure, nor damnation itself, alters life's course."

Or, as he recalled one visitor saying, they "could feel the love the moment they walked in the door."
Sara Millhouse is news editor.

May-June 2019 copyright © Big River Magazine