Wenonah Canoe
By Ryan Johnson
2016 Big River Magazine

The faint potpourri of resin, paint, plastic and sawdust greets your senses as you enter the reception area of the Wenonah Canoe factory, then the handful of ­colorful boats in their small showroom. If you travel deeper into the factory, the smells gets stronger, and you pass workstations with boats of all colors, sizes and shapes in various stages of completion. The din of tools ­banging, whirring and grinding adds to the ambiance. This small factory on the east edge of Winona, Minn., is where boats are born.

Founder and owner Mike Cichanowski's tall slender frame, wide shoulders and long arms were made for canoeing. His office is modest — no fancy executive leather chair, the canoe and kayak paddles laying around greatly outnumber the binders and file folders.

The Boy Scouts were likely to blame for putting a paddle in his hands. That first trip along the Mississippi River, in the early 1960s, ignited a spark that would grow to become a passion and a livelihood. (In 2007 Cichanowski received the Distinguished Eagle Scout Award, joining a select handful of former Eagle Scouts, including President Gerald Ford, Microsoft founder Bill Gates and astronaut Neil Armstrong.) Cichanowski became very active in youth canoe racing and by 7th grade built his own boats in his backyard shed. Now, 50 years later, one of those first wood-strip canoes hangs from the atrium of the Winona County History Center.

He continued building canoes and got increasingly involved in racing. Between high school graduation and college Mike and four friends loaded two of the earliest Wenonah fiberglass canoes onto the roof of an old station wagon, drove to the Upper Peninsula of Michigan, sold the car and embarked on a 400-mile canoe journey back home — paddling a route pioneered by early American fur traders.

Once home, he enrolled in the forestry program at Winona State University, but the passion for canoes exceeded his love for trees, and he shifted his studies to the industrial arts. Soon he outgrew the backyard shed, and in 1968 he incorporated Wenonah Canoe and rented the first floor of a dilapidated, leaking building in downtown Winona. To help fund the new business, he took jobs building fiberglass parts for local businesses. When urban renewal took hold downtown, Cichanowski got a loan to buy property on the outskirts of town to build a new factory and expand his operations. His modest crew of three employees quickly grew to 20.

The early canoes were designed with pencil and paper, trial and error. A 20-foot-long table affords plenty of room for in-house designers, as well as renowned paddlers from around the world, to sketch out their visions. Prototype boats built from these plans are tested on the water. Test paddling the craft gives the designers hands-on feedback that is so crucial. Modifications to the prototype are made until it achieves approval of the designers and test paddlers. A mold is then crafted from the finely tuned prototype.

Despite advances in computer-aided drafting, Wenonah still builds nearly all of its boats this way. Cichanowski's house on the banks of the Mississippi, a few miles downriver from the factory, serves as the proving grounds for the company's boats. Prototypes fill the garage, where it is a weekly summertime ritual for friends, employees and family to join the evening paddles for a little R&D.
The Material World

Royalex canoes became a big part of Wenonah's canoe sales after the canoe industry embraced it in the late 1970s. Royalex was produced at a factory that manufactured flat sheets of plastics and foam sandwiched between two layers of vinyl. Compared to laying up fiberglass or Kevlar hulls with fabric and resin, Royalex boats were relatively quick to produce and therefore more affordable. A large oven heated the sheets of Royalex and molded them over the form of a canoe, producing a hull that was light and durable. Once the hull cooled, it was moved to the next stations, where gunwales, seats and other fittings were installed. The Wenonah Royalex canoes became a favorite of paddlers. Unfortunately, in 2014 the manufacturer of the Royalex sheets pulled the plug on the only machine producing them. Wenonah sent its last delivery of sheets into the oven last spring.

Materials such as Kevlar and graphite also gave small-boat manufacturers new opportunities to drastically reduce the weight of canoes and kayaks, for a higher price. Wenonah Canoe pioneered a vacuum-bag technology to build the lightest and strongest boats on the market. Soon it became the world's leading producer of Kevlar canoes. Soft sheets of the patented fabric are carefully cut and placed into the mold of a canoe hull, resin is added and vacuum pressure helps distribute the right amount of resin to where it needs to go. After the outer shell of the canoe is cured, reinforcing ribs and floors are carefully cut out of foam and fit inside of the hull. A second sheet of Kevlar or graphite is laid down and vacuum bagged again before moving onto the trim and accessories stations. The result is a canoe that is very strong for its weight. Kevlar and graphite hulls can reduce the weight of the craft by more than 30 percent compared to fiberglass hulls — a big benefit for long portages or loading boats on vehicles.

While many paddlers of generation Royalex may hope for a comparable replacement, it's not likely. Wenonah is relying on a solution that they developed 37 years ago. Tuff-Weave material may not be produced as quickly as the Royalex models, but the fiberglass and polyester composite offers significant weight reduction as well as a superior impact resistance over Royalex.
Two shifts work hard to keep up with orders and finish about 10 new canoes each day.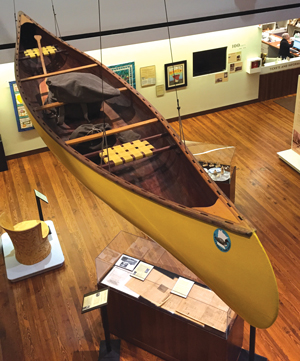 More than Canoes
The Cichanowski family grew. His wife, Linda, became an avid paddler and that love was passed along to their two daughters. The daughters took turns steering from the stern with Dad paddling from the bow and each won an Adult-Youth canoe racing championship from the American Canoe Association.
In 1999 the Wenonah Canoe family decided to grow as well.

As the sport of kayaking began to blossom, Wenonah canoe started designing and building kayaks to add to its lineup. The Wenonah kayaks performed well, but Cichanowski felt they lacked a certain shelf appeal. After years of informal collaboration, Wenonah acquired Current Designs kayaks, which was based in Victoria, British Columbia. The company was struggling with logistical problems caused by its isolated location. A new ­factory was opened in Canada, but despite five years of hard work, problems continued.

A tough decision was made to move the kayak operation to Winona. A new facility was built less than a mile from the canoe factory, and by 2004 Current Designs kayaks had earned a "Made in America" sticker. The Current Designs brand expanded to appeal to the full spectrum of kayakers, from casual recreational paddlers to long-distance adventurers. The vacuum bag technology was tweaked to work with the more complex shapes of kayaks and create lightweight Kevlar and composite models. Molds are made of a top and bottom half of the kayak, and once the materials are laid up and the resin has cured, the two halves are joined together.

Roto-molded polyethylene plastic boats offer an affordable and durable alternative to their composite counterparts. Much like the Royalex canoes, the production process of the polyethylene kayaks are substantially quicker than the composite models. Grains of plastic are scooped into an intimidating looking steel mold of a kayak and moved into a large oven that looks like an amusement park ride. The oven rocks, rolls and rotates to spread the melting plastic to cover the mold. A complete hull emerges from the mold and is carefully cooled before hatches, seats and other components are installed.

In 2011 Wenonah also acquired QCC Kayaks, which makes high-end composite boats. QCC, founded in rural Wisconsin in 1991, was known for building quality kayaks aimed at paddlers looking for an extremely efficient glide while maintaining full touring capabilities. With their long graceful curves, the handful of sleek QCC Kayaks stand out in the Current Designs catalog.
Between the roto-molded models and the more tedious composite kayaks, the builders in the Current Designs factory pump out around 20 new kayaks each day. The finished boats wait their turn to be loaded on a massive trailer capable of hauling 50 to 100 canoes and kayaks. Wenonah Canoe Inc. maintains its own fleet of heavy-duty pickup trucks and drivers who deliver boats across North America.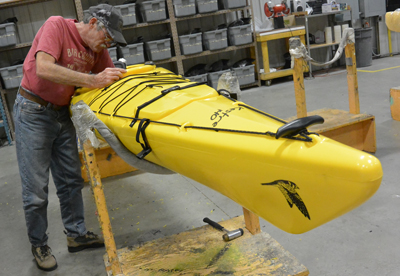 Stand-up Paddleboards
At the Salt Lake City Outdoor Retailer Expo in 2007, Mike shared his booth with his friend Todd Bradley, who was introducing the world to stand-up paddleboards (SUPs) with his C4Waterman brand. At first glance, SUPs appear to just be bloated surfboards propelled with a stretched out canoe paddle. Many in the business were skeptical that they could watch on.

The next year at the Salt Lake City show there were three booths promoting SUP products. The following year, 30 booths. The next year, 80. No longer did people doubt the SUP craze.

Mike decided to bring the C4Waterman brand under the Wenonah Canoe Inc. umbrella. The Hawaiian roots are very important to the C4W brand, but to spread the sport to the inland waterways, additional models were added to the lineup. Longer SUPs that track better on flatwater have been developed to satisfy paddlers looking for an alternative method to explore their lakes and backwaters.
Over 40 different boards are produced using either a rigid foam and laminate construction, or an easily transportable inflatable board. They come as short as eight feet four inches, for those who want to surf waves, to 12 and 14 footers, more suited for touring. The large selection of colorful boards are overshadowed by the ultimate in SUPs — the SUPSquatch. Almost 17 feet long and 6.5 feet wide, this monster can easily carry six paddlers who want to brave anything from 20-foot breakers on the ocean to class 4 whitewater run.s
Ryan Johnson is a contributing editor to Big River and a kayak guide. His last story was "The Big Campus — Augsburg's River Semester," November-December 2015.
©2016 Big River Magazine