When you renew, your name and address will be sent to us from your credit information. (We do not receive your credit card number.) IF YOUR SUBSCRIPTION IS IN A DIFFERENT NAME THAN WHAT IS ON YOUR CREDIT CARD, LET US KNOW ON THE PAYPAL FORM WHERE IT SAYS "Enter message to Big River here." Or, fill in the Shipping Address with the name of the subscription.
When you renew, you may send four free trial issues to another person. The only requirement is that the recipient is not a subscriber to Big River (and has not subscribed in the past).
Please enter the name and address of the gift recipient below.
If you have a problem, please call us at 800-303-8201 (or 507-454-5949) or email us directly. Thank you.
When we receive your order we will let you know if the person you have chosen is (or has been) a subscriber, and you will be able to choose another name.
If you'd prefer to pay by check, send to Big River, PO Box 204, Winona, MN 55987. Or call us at 1-800-303-8201.
Order the new book from Big River!
Birds of the Upper Mississippi and Driftless Area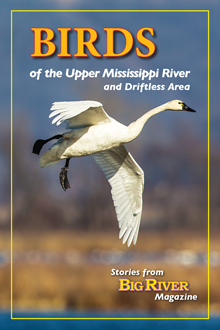 $19.95
plus shipping and applicable tax in Minnesota
Or call 1-507-454-5949 with your order.