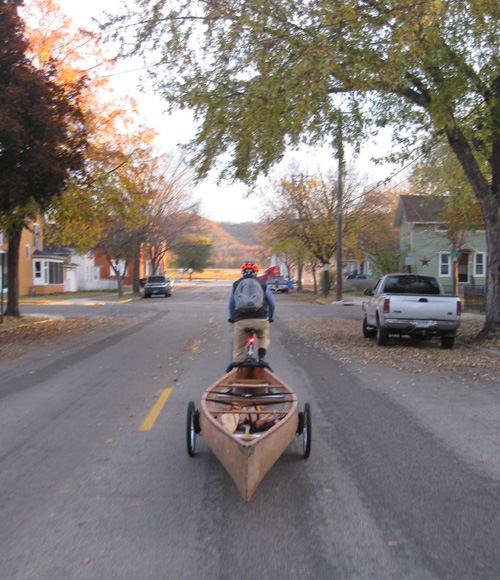 ..
Roll Me to the River
By John Gabbert
Photos by Joyce Belgum
January-February 2016
Perhaps my dad planted the seed when he told me the story of selling his canoe to buy a bus ticket home from St. Louis in 1938.
"You sold it, really?" I was incredulous.
He and three other 16-year-olds had paddled two canoes there from Cedar Rapids — on the Cedar, Iowa and Mississippi rivers — before swapping them for bus tickets.
Canoe transport has puzzled me ever since. What's the point of saving fossil fuels in favor of human-powered transport if you haul your boat to the water on a car, or take two cars so you don't have to paddle back upstream?
The solution, it seemed, is another mode of human-powered transport — bicycling!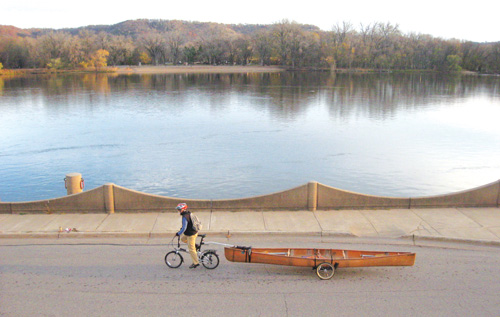 The first time I threw a 32-inch bicycle across canoe gunwales, it ripped the kevlar above the bilge on a borrowed boat up on the Whitewater River, near Weaver Bottoms. That was embarrassing.
I had hauled my kids in a bike cart, and later slung my canoe on edge in that old cart and walked it the four blocks to the river. As I walked the boat, I pondered.
Once I lashed my favorite 17-foot Jensen onto a mountain bike — impossible to steer. I considered a child stroller. Then I found the Wike canoe-bike trailer online. Trust those Canadians to build light, solid and easy. Plus, I got to say, "Guelph" (Ontario).
Meanwhile, in Cambridge, Mass., while watching rowing crews practice before dawn on the Charles River, I saw a suit-and-tied bike commuter zip off the Harvard Bridge, fold up his bicycle and jump onto a city bus.
I soon discovered that two folding bikes, a folding bike cart and day tripping gear require a canoe larger than a 17-foot Jensen. My partner of 39 years shares my love of canoeing, and a boat 18 feet or longer provides a more harmonious and commodious paddle for two people, their bikes, cart and other stuff.
Paddling solo in a small tandem boat loaded with a bike and cart requires kneeling in front or sitting on the center thwart with the gear behind. Or, you can load the gear forward of the aft seat and sit on the bow seat facing the stern, which trims the boat nicely. I prefer the center thwart option using two- to four-stroke, sit-and-switch paddling.
I soon learned that the Dahon D7 Mariner folding bike, while great otherwise, does not have the low gear it needs to pull a canoe uphill. Enter Brad Walker at Adventure Cycle & Ski in Winona, Minn., who helped me gear the 7-speed transmission down, first with a larger rear cassette — up to 32 teeth from 28 on the big ring — then a smaller, single-ring crankset on the front — down from 52 to 46 teeth. This sacrifices some top-end speed, but it's worth it.
Recently, in downtown Chicago, I saw a cyclist with no fewer than three red LED flashers — helmet, backpack and bike seat — plus a white flasher on the handlebars. Get visible — don't ride an obscure "donor-cycle" while some texting driver initiates your organ harvest. Wear a helmet. Lash gear securely to the boat.
In the boat, wear your life jacket.
Bike-canoeing provides flexible options for putting in and taking out. Allow 15 to 20 minutes to launch or get biking, fewer with practice.
For me canoeing is about constant motion, working with and against wind and current, the light on water, and constantly changing views of land, sky, lake or river. Companions increase the joy of paddling, fishing, birdwatching, working out or just having fun.
Perhaps that huge shovelnose sturgeon, whose grey-green scales broke the surface of the Main Channel in a long, monstrous arc alongside me, will come up to greet you, too.
John Gabbert lives in Winona, Minn. This is his first story for Big River.