Big River Magazine
Explore the Upper Mississippi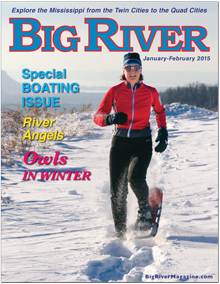 January-February 2015

Visit us on Facebook



Search our site

Read stories from past issues of Big River

Weather forecast for Upper Mississippi cities

River levels on the Upper Mississippi

Towboat-watching resource: Boats in pools and queued in locks.

Dreaming of a trip down the river? Read about boaters taking a voyage of a lifetime down the Mississippi on River Trips.


Big River Carp T-shirt
Order Here!


Covering the Heart of the Driftless Area for 22 Years
Bringing an Old Boat Back to Life
Capt. Carl Henry
"I got it at a fair price, but it was definitely a fixer-upper. I didn't know if anything worked – if the two 130-hp engines even ran. It was the dead of winter, and there was a foot of water and ice in the bilges. Some machinery was underwater and ruined. The ceiling was collapsing from water damage. It was rough, but it was a solid boat with a lot of potential and character, just the project I was looking for at the time."
Read the whole story in the January-February Big River.
---
Last Towboat Ride
to the Upper Harbor
In early November, I was a guest of Captain Kelsey Rohr and his crew aboard the motor vessel Patrick Gannaway on their daily run from St. Paul to north Minneapolis. Kelsey has piloted this towboat for the last 20 years, pushing loads of sand and gravel upriver. From 1997 through 2000, I was a part of the crew. I wanted to make the run one more time before the Upper St. Anthony Lock is shut down to halt the advancement of Asian carp up the Mississippi River.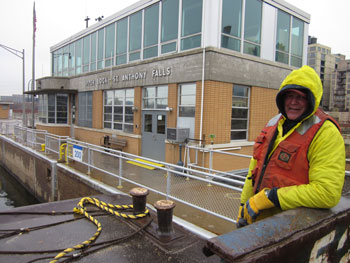 By Capt. Bob Deck
---
When "Big Mama" Ruled the Rivers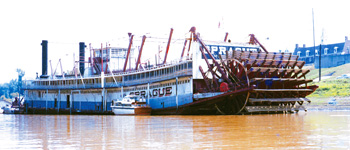 Remains of the world's largest steam-powered sternwheeler towboat lie abandoned in Vicksburg, Miss.
By Connie Cherba and Harold Pollock
Listen to the Sprague's steam whistle

---
River Angels
People who paddle the length of the river find help from folks who come to be known as "river angels."
By Anna Segner
Read these stories
in the
January-February issue of
Big River.
Buy the magazine at these locations
Order single issues from Big River

See more on the Highlights page
Report Shows Violation of Regulations Common Practice for Frac Sand Industry
Marty Kittrell's blog on the Sprague
Minnesota Dugout Canoe Project
Deck on Deck: Towboating in the Twin Cities by Capt. Bob Deck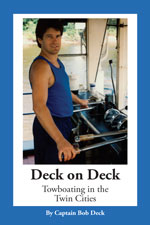 What's it like to work on a towboat? Deck on Deck is a first-hand account of life on river towboats in the 1970s and 80s. These stories will entertain you as Bob Deck recalls his days as a deckhand on the Mississippi River.
Big River Travel Map
Dozens of scenic Mississippi overlooks and places to go.
Read Stories
about the Upper Mississippi River from past issues of Big River Magazine.
See complete issues from 2006 and 2007 online (PDFs). Select issues here
Volunteer groups on the river - a nine-part series about non-profit groups making a difference on the Upper Mississippi
Check the weather forecast and river levels for Upper Mississippi River cities.
Links to Upper Mississippi Resources
Take a look back at our April Foolishness river stories.

Troubled Waters Ñ 30 Years in the River Business by Jack Lambert For sale in the Big River Bookstore. Listen to Jack's July 1st talk with Tommy Mischke on The Nite Show - Mischke Til Midnite,WCCO NewsRadio online.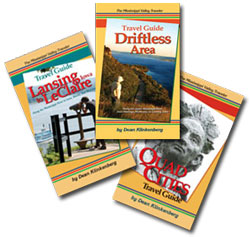 Driftless Area, Lansing to LeClaire, Iowa, and Quad Cities Travel Guides by Dean Klinkenberg. More info and ordering info.