Big River Magazine
Explore the Upper Mississippi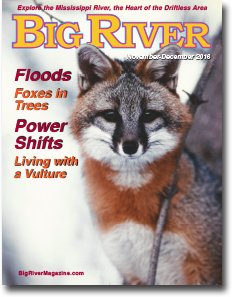 (Photo of gray fox by Herb Lange)
November-December 2016



Read stories from past issues of Big River


Covering the Heart of the Driftless Area for 23 Years
November-December 2016
See Highlights for the Table of Contents

Swamp Stories
Kenny Salwey's CD
Bluffing
Poems inspired by Mississippi River overlooks
Stories you don't want to miss!

Betting on Dry Land - the modern area of gambling on the Mississippi has nearly come to an end. By Dean Klinkenberg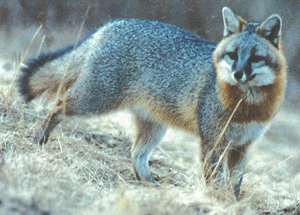 Gray Shadow - Kenny Salwey's tale about a year in life of a gray fox. Photos by Herb Lange.
Spring Lake - A Legacy Lost and Found. A man discovers his family owns islands in the Mississippi and that his mother was about to sell them. By Denny Caneff
---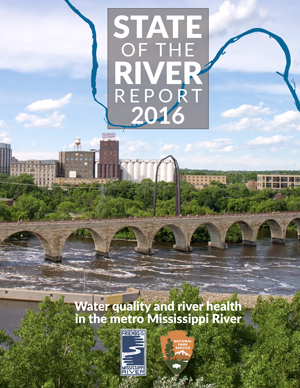 ---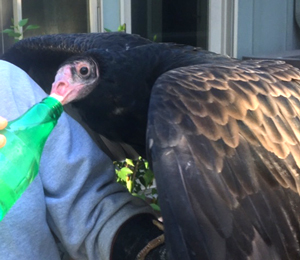 Living with a Vulture Gonzo is no ordinary bird. By Joan Schnabel

From September-October 2016: Effigy Mounds of the Wisconsin River Valley by Sara Millhouse. Also in PDF
Big River Travel Map — Dozens of scenic Mississippi overlooks and places to go.
Read Stories about the Upper Mississippi River from past issues of Big River Magazine.
See complete issues from 2006 and 2007 online (PDFs). Select issues here
Volunteer groups on the river - a nine-part series about non-profit groups making a difference on the Upper Mississippi
Check the weather forecast and river levels for Upper Mississippi River cities.
Links to Upper Mississippi Resources
Take a look back at our April Foolishness river stories.

Listen to Reggie McLeod talk with Larry Meiller on Wisconsin Public Radio about stories from the current Big River and the state of the river.
Buy the magazine at these locations
Order single issues from Big River

See more on the Highlights page
Deck on Deck: Towboating in the Twin Cities by Capt. Bob Deck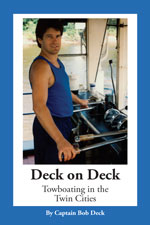 What's it like to work on a towboat? Deck on Deck is a first-hand account of life on river towboats in the 1970s and 80s. These stories will entertain you as Bob Deck recalls his days as a deckhand on the Mississippi River.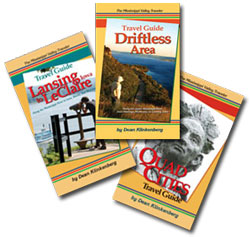 Quad Cities Travel Guide

Lansing, Iowa, to Le Claire Travel Guide

Driftless Area Travel Guide
Weather forecast for Upper Mississippi cities
River levels on the Upper Mississippi
Towboat-watching resource: Boats in pools and queued in locks.
Facebook Page Mississippi River Paddlers - people paddling from Source to Sea