Big River Magazine
Explore the Upper Mississippi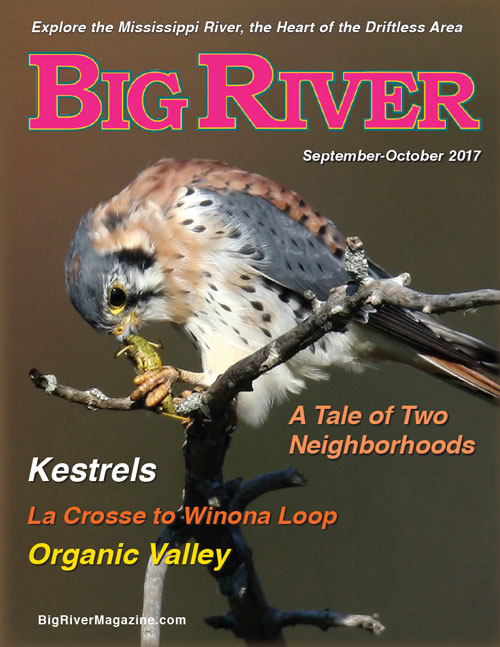 September-October 2017





Read stories from past issues of Big River

September-October 2017
Covering the Heart of the Driftless Area for 24 Years
Order your new Big River Magazine subscription here. Your sub will start with the next issue. Big River is published six times a year.
Stories you don't want to miss!
See Highlights for the Table of Contents
See links to more information about feature stories.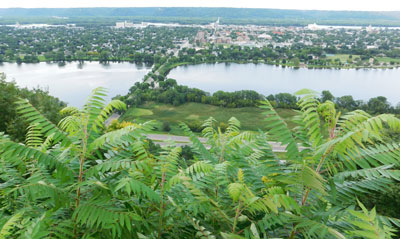 La Crosse, Wis., to Winona, Minn., Loop
With two college towns, two state parks and countless overlooks, this area is packed with interesting places and things to do.
By Reggie McLeod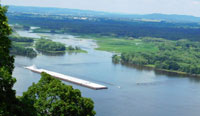 ---
Growing a Business Organically
Deep in the Driftless Area, a tiny cooperative started by area farmers has grown into a billion-dollar international success story.
By Sara Millhouse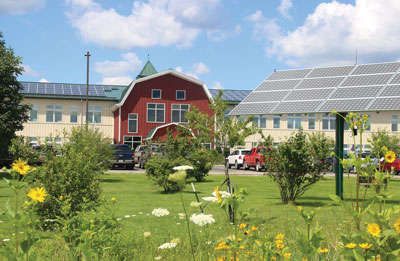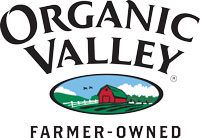 ---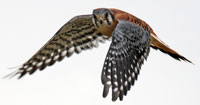 (Alan Stankevitz)

Kestrels — Little Raptors with a Big Attitude
You can often spot kestrels sitting on a wire bobbing their heads and tails.
By Joan Schnabel

---
---
From September-October 2016: Effigy Mounds of the Wisconsin River Valley By Sara Millhouse. Also in PDF
Editorial: Replacing an Aging Paradigm
Dams have unbalanced an environment that evolved for millions of years.
By Reggie McLeod, Editor and Publisher of Big River
Roll Me to the River Jan-Feb 2016
Rig up a trailer on a fold-up bicycle and pedal your canoe to the river. By John Gabbert
Carp Poetry Winners July-Aug 2015
12 Great Rivertown Gardens (pdf) May-June 2015
Big River Travel Map Dozens of scenic Mississippi overlooks and places to go.
Read Stories about the Upper Mississippi River from past issues of Big River Magazine.
See complete issues from 2006 and 2007 online (PDFs). Select issues here
Volunteer groups on the river - a nine-part series about non-profit groups making a difference on the Upper Mississippi
Check the weather forecast and river levels for Upper Mississippi River cities.
Links to Upper Mississippi Resources
Take a look back at our April Foolishness river stories
Restoring Driftless Area Prairies May-June 2017 By Pamela Eyden (also in PDF)
RiverTrips: Big River source-to-sea paddler page accounts, stories and resources

---
Here's where you can purchase the latest Big River.
Order single issues from Big River

See more on the Highlights page
New River Products!
Swamp Stories
Kenny Salwey's CD

Bluffing
Poems inspired by Mississippi River overlooks
Deck on Deck: Towboating in the Twin Cities by Capt. Bob Deck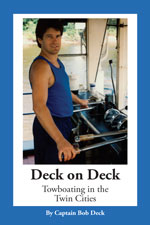 What's it like to work on a towboat? Deck on Deck is a first-hand account of life on river towboats in the 1970s and 80s. These stories will entertain you as Bob Deck recalls his days as a deckhand on the Mississippi River.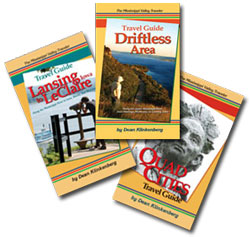 Quad Cities Travel Guide

Lansing, Iowa, to Le Claire Travel Guide

Driftless Area Travel Guide
Weather forecast for Upper Mississippi cities
River levels on the Upper Mississippi
Towboat-watching resource: Boats in pools and queued in locks.
Facebook Page Mississippi River Paddlers - people paddling from Source to Sea