Big River Magazine
Explore the Upper Mississippi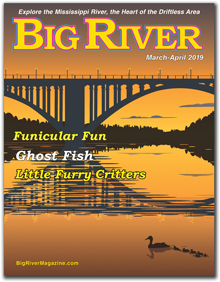 March-April 2019


---
Your subscription will start with the May-June 2019 issue. Big River is published six times a year.
---
Weather forecast for Upper Mississippi cities
River levels on the Upper Mississippi
Facebook Page Mississippi River Paddlers - people paddling from Source to Sea
Towboat-watching resource: Boats in pools and queued in locks.


Covering the Heart of the Driftless Area for 26 Years
Stories from Past Issues
Editorials
Editorial: Replacing an Aging Paradigm
Dams have unbalanced an environment that evolved for millions of years.
By Reggie McLeod, Editor and Publisher of Big River
Editorial: Dead, Dying and Poison Zones
Decades of voluntary agricultural programs and incentives have had little effect. By Reggie McLeod, editor and publisher of Big River
Outdoor Fun
Climbing the River Bluffs (pdf) March-April 2017
The Mississippi River valley could be the best sport-climbing spot in the Midwest. By Pamela Eyden Climbing Links
Paddling Odysseys of 2016 March-April 2017 (pdf)
Roll Me to the River Jan-Feb 2016
Rig up a trailer on a fold-up bicycle and pedal your canoe to the river. By John Gabbert
The Big Campus: Augsburg's River Semester Nov-Dec 2015. (pdf) The river was a classroom for three months. By Ryan Johnson
Making New Wine in an Old River Valley
Special Places
Nature Reawakens at Nahant Marsh July-August 2017 By Emery Styron
Restoring Driftless Area Prairies May-June 2017 By Pamela Eyden (also in PDF)
Spring Lake - A Legacy Lost and Found
The author explores his heritage on the Mississippi. Nov-Dec 2016 By Denny Caneff
Effigy Mounds of the Wisconsin River Valley September-October 2016
By Sara Millhouse. Also in PDF
Boats
A Family Tree with Roots in the River — the Suiter family March-April 2018 By Sara Millhouse (pdf)
Waiting for the Julia Belle Swain (pdf)
The hard, gritty, expensive work of rescuing one of the finest steam sternwheeler packet boats ever built is nearly finished. Jan-Feb 2017 By John Gabbert
Preparing for a Long River Cruise. By Capt. Larry Martin (pdf) Jan-Feb 2008
Bringing an Old Boat Back to Life— Carl Henry
Critters
The Plight of the Bumble Bees May-June 2017 By Joan Schnabel
Gray Shadow
Nov-Dec 2016
By Kenny Salwey
Photos by Herb Lange

Nighthawk Twilight July-Aug 2015 By Molly McGuire
An Otter Kind of Critter By Roger Lacher,
Snapper! By Roger Lacher, June 1994
Carp -- Queen of the River or Pig with Fins? By Pamela Eyden, November 1993