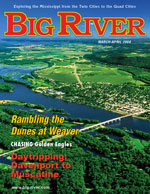 800-303-8201 or
507-454-5949

Keep exploring the Upper Mississippi with us! We appreciate your interest and support. Renew now and enjoy stories about wildlife, people, history, rivertowns, boats, things to do and places to go on the river.
When you renew, you may send four free trial issues to another person. The only requirement is that the recipient is not a subscriber to Big River (and has not subscribed in the past).
Please feel free to comment on how we're doing and what you'd like to see on the river and in the magazine. Thank you!
Or, call 800-303-8201 or 507-454-5949.
You can charge your renewal to your VISA, Discover or Mastercard.