River News
From November-December 2011 Big River
Hydropower Push
Hydropower developers are showing new interest in every, or nearly every, lock and dam on the Upper Mississippi River since federal agencies agreed to streamline the permitting process early last spring.
Jo-Ellen Darcy, assistant secretary of the Army, and Jon Wellinghoff, chairman of the Federal Energy Commission (FERC), signed a memorandum of understanding in late March to establish a framework for FERC and the Army Corps of Engineers to coordinate their procedures "to ensure the timely review of and action on proposed non-Federal hydropower development applications."
Companies are competing for permits at several lock and dams. Proposals include schemes to build traditional powerhouses, to install generators in auxiliary locks and plans to install removable generators in dam gates.
The identities of some companies filing notice that they intend to apply for a permit is a bit confusing. On several notices, a new company is listed as the applicant, but an officer of a large hydro developer is listed as the contact person. For instance, Mississippi 8 Hydro LLC gave notice to FERC that it intends to file a license application for Lock and Dam 8, and listed the chief operating officer of Symbiotics LLC of Bend, Oregon, as the contact. Hydro Green Energy LLC of Houston, Texas, and Free Flow Power of Boston are also involved in the filings for lock and dam licenses from FERC.
Agencies are scrambling to respond to tentative plans that sometimes include two possible methods of generation at the same site. In early September, the Wisconsin Department of Natural Resources (DNR) completed a 27-page "pre-application document" (PAD) addressing Free Flow Power's interest in lock and dams 3, 4, 6, 7 and 9. The PAD outlined studies that would be needed to determine the projects' effects on water quality, hydrology, fish, mussels, endangered species, exotic species and recreation.
The cumulative effects of adding turbines to a series of dams and the impacts of building power lines to serve the new generators will also need to be considered, noted Ron Benjamin, Mississippi River fisheries supervisor for the Wisconsin DNR.
The impact of so many new filings in a short time is daunting. "It's eating up an enormous amount of agency time," Benjamin said.
State green energy requirements and incentives, and new techniques for generating power from low-head dams are probably also fueling the new interest in the lock and dams, he added.
Pelican Nursery Massacre
Faribault County, Minn. — On May 17, 2011, Craig Stoloch, a farmer of Faribault County, waded in among the white pelicans nesting on the shores of Minnesota Lake and destroyed 2,400 eggs and chicks, and 1,458 nests. On October 6, in federal court, his lawyer claimed he had "just snapped." He was angry that the big birds had nested on land he'd rented to grow corn and soybeans, and frustrated that he couldn't do anything about it because pelicans are federally protected.
The big birds have rebounded from near extinction in the 1960s. American white pelicans prefer to nest on islands and return to the same spots every year, but high water has shrunk the birds' traditional nesting grounds the last few springs. Some moved to nest on the shore nearby.
In May, a Minnesota Department of Natural Resources (DNR) specialist came to count the nests and chicks, but left when she found there were too many for her to survey alone. Stoloch called her that day to ask whether he had any "options" regarding the birds, and was told they were protected and could not be harmed. He did not know she was coming back.
Next day, when she returned with two other people, the colony was silent. No birds flew up. The nests were cold. Thousands of smashed eggs and chicks lay among the grass. A pelican expert who'd come along to count called the sight "gruesome."
When investigators confronted Stoloch, he admitted his action, claiming that in the past few years the birds had crushed crops with their big feet and their droppings had ruined the soil.
Sources at the DNR could not recall an incident in which so many federally protected animals had been destroyed either accidentally or intentionally. The colony was the biggest in the state.
Stoloch's trial is set for November 28. If convicted of the federal misdemeanor, Stoloch could face a fine of up to $15,000 and six months in jail. His lawyer hopes to settle the case without trial. (Pioneer Press, 10-6-11; Minneapolis StarTribune, 10-7-11) UPDATE
Protect Eels?
When the U.S. Fish and Wildlife Service (FWS) considered placing the American eel under federal protection as a threatened or endangered species in 2007, it decided against doing so. New information has come to light, and the agency is considering the issue again.
The American eel used to be common from Greenland to South America. This unusual species spends part of its life in the Sargasso Sea and migrates long distances to get to its spawning grounds.
Fishermen on the Upper Mississippi still find an eel in their nets once in a while, although locks and dams have nearly stopped their migration this far north. That's a big problem, but not the only one. Turbine mortality, increasing harvest and changes in ocean conditions are also taking a toll. So is climate change and a parasitic nematode.
The FWS is carrying out additional research and seeking public comment. The 60-day comment period will end Nov. 28, 2011.
Cougar Sighting
The Iowa Department of Natural Resources (DNR) confirmed that a trail camera photo taken along the Wapsipinicon River in eastern Clinton County on September 17 did indeed show a mountain lion.
The DNR gets many reports each year of mountain lion sightings, but only a small percentage are confirmed. Most sightings are other animals, such as bobcats or dogs. "But in this case, we've got a pretty good image from the trail camera. I don't have any doubt on this one that we have an image of a mountain lion," said DNR wildlife biologist Vince Evelsizer.
Two weeks later, on October 1, and several miles downriver in Pike County, Ill., a 14-year-old bow hunter claimed to have fought off and wounded a cougar with his pocket knife. He later admitted that he made up the story and got his scratches when he fell from his tree stand.
Meanwhile, genetic testing from a cougar hit and killed by a car near Milford, Conn., last June determined it was likely the same cat that passed through Minnesota and Wisconsin in late 2009. It is believed to have roamed east from the Black Hills in South Dakota in search of new territory, traveling more than 1,500 miles from its original home — representing one of the longest movements ever recorded for a land mammal and nearly double the distance ever recorded for a dispersing mountain lion, according Daniel C. Esty, commissioner of Connecticut's Department of Energy and Environmental Protection.
Flock of C-Brats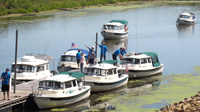 Guttenberg, Iowa — A flotilla of C-Dory boats and their adventurous owners from all parts of the country filled the new Guttenberg Marina for the second annual National C-Brat Gathering and Reunion in early September.
C-Dory vessels are tough, ruggedly built, ocean-going pilot house boats designed to handle rough water. The boats are manufactured in Ferndale, Wash., and range in size from 16 to 26 feet. They come equipped with kitchen, bathroom and sleeping facilities.
C-Dory enthusiasts, who call themselves "C-Brats," trailered their vessels to the Mississippi River from as far away as Arizona, Florida, Texas and New York. On September 10, the fleet cruised downriver at speeds up to 20 mph for lunch and an impromptu boat show at the Hawkeye Marina at Mud Lake, north of Dubuque, Iowa. (http://www.c-brats.com)
Go to Previous River News (September-October 2011)
To read more Mississippi River news and stories, order this issue or find Big River at one of these retail outlets.