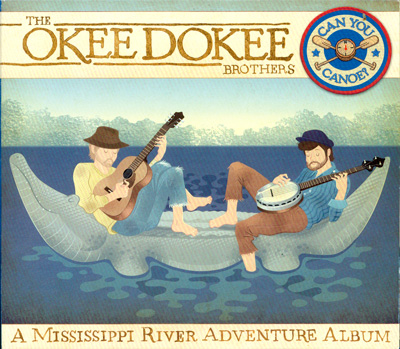 The Okee Dokee Brothers — Can You Canoe?
Okee Dokee Music, 2012, $15.00, okeedokee.org
The Mississippi River has inspired countless artists over the years. Two new ones are The Okee Dokee Brothers — Justin Lansing and Joe Mailander — best friends since early childhood.
The "brothers" began a month-long canoe trip on June 1, 2011, in Lake Itasca, Minn., the headwaters of the Mississippi, to camp, canoe, film and write songs for a new album during their journey to the St. Louis Arch.
They claim to have had a ton of fun meeting cool people and critters. Said Mailander, "Overall, it was very positive experience for us as outdoorsmen and songwriters."
The artists came up with 15 catchy songs that will leave you nodding to the beat and wanting more. The subject line of each song is simple and innocent enough for a child to enjoy, but they also carry deeper meanings aimed at adults. The combination of simple subjects and sly insights make songs like "Rosita the Skeeta" and "Thousand Star Hotel" enjoyable for listeners young and old. Similarly, the DVD, though silly at times, is entertaining to watch. It features music videos, a 13-step instructional silent film on how to build a fire and many fun adventures.
Among their more memorable experiences was their visit with Kenny Salwey, the last river rat. According to Mailander, Kenny's wisdom really "set the tone for the rest of the trip." He says that one of the most important lessons that he and Lansing adopted during the trip was to "accept the pace of things," which inspired the song "Let It Roll."
Can You Canoe? includes a CD, DVD and a field journal. The package is the first in The Okee Dokee Brothers' planned Adventure Album Series. The songwriting adventurers are already planning an adventure for next year. Although they have not revealed exact locations, they have hinted that the adventure will take place in the Appalachian Mountain region. — Reviewed by Naomi Rath