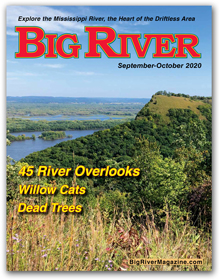 Big River Magazine
Explore the Upper Mississippi

Visit us on Facebook

Order From Big River
$14.99
BLUFFING
By Dick Stahl
48 pages

Bluffing is a book of poems inspired by blufftop views overlooking the Mississippi River.

Over several years he and his wife, Helen, visited 34 river overlooks from the Twin Cities to the Quad Cities. They took photos and Dick wrote poems inspired by the visits, history, views and speculation.
Dick doesn't consider Bluffing to be a poetry book, but rather a "hybrid" book combining a poem and photo on each page to create individual presentations for each overlook. He is a sly poet and warns the reader that "bluffing" has more than one meaning.

The Stahls live in Davenport, Iowa, and Dick served as the first Poet Laureate of the Quad Cities from September 2001 to September 2003. In 2015, he took a first and second place in Big River's carp poetry contest.