Explore the Mississippi River!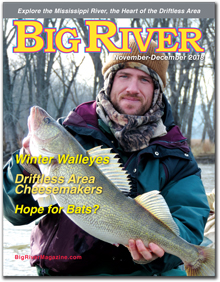 Subscribe to
BIG RIVER Magazine
800-303-8201 or
507-454-5949

Subscription Information
Big River Magazine explores the Mississippi River from the Twin Cities to Davenport, Iowa, entertaining and informing readers all along the way. Subscribe now and enjoy stories about wildlife, people, history, rivertowns, boats, things to do and places to go on the river.
1-year subscription $33.00
2-year subscription $63.00
3-year subscription $92.00
Subscribe online here:
Subscribe and we will bill you later.
(Click on next text box or click tab to proceed to next field.)
Your subscription will start with the next issue.
Online subs are 21.00 for one year for non-subscribers. We will email you a pdf of each issue.
1-yr online sub
Online subs are free for subscribers to the print magazine. Call us at 507-454-5949 or email us if you'd like to sign up.
---
---
Or, call 800-303-8201 or 507-454-5949. We can either bill you or charge the subscription to your VISA, Mastercard or Discover card.
Or, send your name and address to: Big River, PO Box 204, Winona, MN 55987. Tell us whether you want a one-year, two-year or a three-year subscription. Include a check or your credit card number and expiration date, or ask us to bill you.
Subscriptions will start with the next issue. Big River is published six times a year.