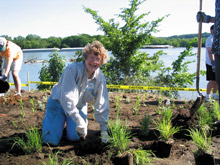 Great River Greening
Year of the Oak
Mission
Great River Greening's mission is to lead and support community-based restoration of natural areas in the Twin Cities area.
Beginnings
Great River Greening began in 1995 as a project to "green up" the downtown riverfront in St. Paul. The city and the St. Paul Foundation organized the effort, which was to last five years and rely entirely on volunteers. When volunteers completed the project in four years, the city and foundation determined there was enough interest to spin off a free-standing, nonprofit organization. Great River Greening was established in 1999.
Projects and Activities
Great River Greening specializes in the actual hard work of restoring existing natural areas and designing new ones. Most projects are on or near the Mississippi, the Minnesota or St. Croix river.
"We write the plans and create the designs, we do the fieldwork with our crew, and we bring out the volunteers," said executive director Deborah Karasov. The ability to mobilize volunteers is one of the hallmarks of the organization.
Advocacy is not part of the organization's work, but it does get involved in what Karasov called "stewardship for the future" — encouraging people to take care of the land near them, whether it's a tiny neighborhood park or the whole Mississippi River corridor. The group invites kids from inner city neighborhoods to participate in projects on the outskirts of the city, giving them a chance to experience and help restore different ecosystems.
Members, Volunteers, Staff
Great River Greening is not a membership organization. To round up muscle and energy for restoration projects, it notifies the 4,000 people on its mailing list and recruits others through partnerships with communities and corporations. About 150 volunteers are trained to supervise work teams.
The organization's staff of 10 includes a Ph.D. ecologist who focuses on wild land restoration and a landscape ecologist who focuses on designing with native plants.
Goals and Plans
This year's focus is restoring oak savanna ecosystems near the river in the Twin Cities area. Less than 4,500 acres remain of the five million acres of oak savanna that once flourished in Minnesota. Projects to restore oak savanna include Indian Mounds Park, Anoka County and Pine Bend Bluffs Natural Area in Rosemount. Karasov writes persuasively about oak savannas, their value and the need to preserve and restore them in the Fall 2005 newsletter.
Funding
Funding comes from private donations; grants and donations from foundations and government agencies; and fee-for-service work in which landowners and corporations hire Great River Greening's crew of professionals to design and create restoration projects on their land.
Awards
Designing with Native Plants, by Dan Shaw, a landowner guide to native plantings which was written as part of the downtown riverfront project, was one of three finalists for the 2004 Minnesota Environmental Initiative award.